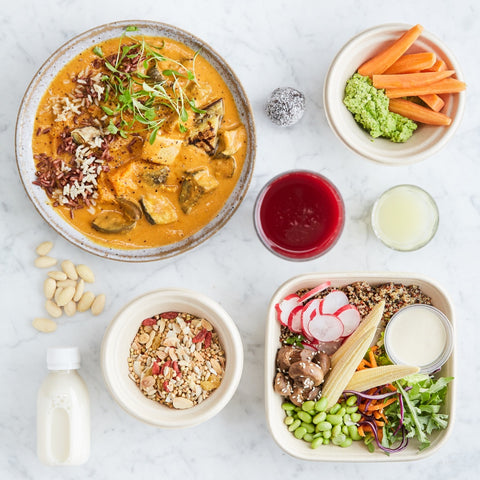 Vegan Package
WHAT'S IN THE BOX?
Breakfast, lunch, dinner, pudding, plus 1 juice, 1 nut pot and 1 snack.
1,300 calories
Rich in proteins and essential fats from 100% plant-based sources
Packed with delicious whole grains, legumes, vegetables, fruit, nuts and seeds
Always dairy, refined sugar and wheat free
If you're looking for a diet that is high in energy and goodness and totally plant based, this is the package for you. Nutritionally balanced to support a vegan diet, we've combined whole grains and plant based protein sources to provide all of the essential amino acids needed for optimum health. Designed with plenty of snacks to keep you satisfied all day long, the Vegan package is a triumph of flavour and nutrition. The benefits that will be seen after enjoying this package will leave you feeling lighter, brighter and energised.
Our vegan package favourites: 'Nut Granola with Compote & Coconut Yoghurt', 'Chili Non-carne with Guacamole' and 'Cacao Mousse'.
We will send you a weekly menu